What is happening?
Verizon recently announced they will be retiring their 3G CDMA Network on December 31, 2022. After December 31, 2022, if you are a Verizon customer still using a device that is 3G (CDMA), 4G that does not support HD Voice (Non-VoLTE), or 1X, the device will no longer be able to send or receive text messages, use data services, or make/receive calls, including emergency 911 calls, on the Verizon network. Until this date, your device will still be able to use these services. Some users may start getting texts on their Verizon cellphones about this announcement.
Example text message: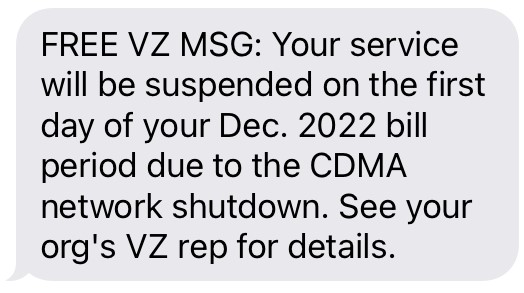 What device are impacted?
Device models that are 3G (CDMA) and 4G that do not support HD Voice (Non-VoLTE) will be impacted. Some of the popular impacted devices include:
3G basic phones and smartphones
4G LTE smartphones that do not support HD Voice

Example: Apple iPhone 5, 5C, 5S (or Prior), Samsung Galaxy S4 (or Prior)

3G tablets and mobile broadband
Proprietary custom built 3G equipment
If you are still using any of these older devices for personal use please contact Verizon to inquire about upgrading your cell phone. If you have an older company-issued cell phone please talk to your supervisor about upgrading your phone. Any other computer related questions or issues please contact the Help Desk at 215-854-7067 or by e-mail at [email protected].