Summary
Level(3) is experiencing outages in our geographic area. Status – Resolved
We have monitored traffic for the last day, and can report that all Level(3) connections have returned to normal.
What is Happening?
Many have reported to OIT that they have experienced slow access to the Internet and business systems. It seems that one of our network vendors, Level(3) is experiencing outages in our geographic area. This has led to the slowness of accessing systems and the Internet over Level(3) circuits. We are working with the vendor to help diagnose the root cause and restore services to normal.
Who is Affected?
This issue mainly affects the sites that use Level(3) exclusively for Internet and data/voice communications which are:
Archdiocesan Pastoral Center
St. Francis St Joseph's
De La Salle Vocational
St. Gabriel's Hall
Northeast FSC
Casa Del Carmen
Southwest FSC
Chester City FSC
Mercy Hospice
Women of Hope Vine
Women of Hope Lombard
Montgomery County FSC
St. John's Hospice
Bucks County FSC
CUA
Cora
Fatima
Norwood
Group Homes of DPD
Level(3) is aware of the outage and Is working with us and their other customers. As the map shows below, the issue affects a wide geographic area.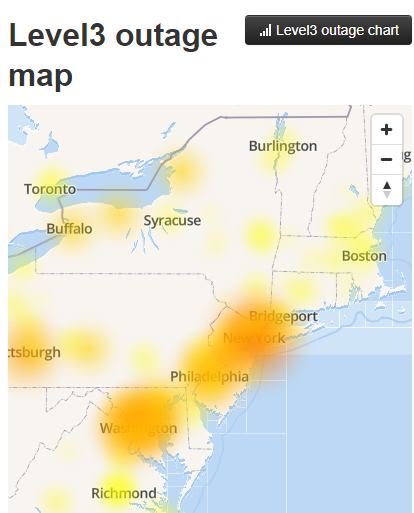 We will send out follow ups as needed and update everyone when the issue is resolved.